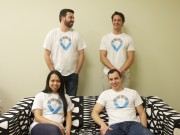 Navut comes to Greater Boston in a bid to Disrupt the Online Moving and Relocation marketplace by offering a more Customer-Focused model for Buyers, Renters and Realtors.
Boston, MA, March 23, 2016 (Newswire.com) - ​​Navut, an award-winning startup from Montreal, has expanded into the Greater Boston Area. From their inception, they have been combining their unique mix of technology and sound advice via subject matter expert-authored blog articles to help thousands of people move from other countries, or even across town. Their website offers a comprehensive search feature to locate neighborhoods, simply named Neighborhood Finder, that incorporates such hard to find information as safety ratings, walking scores, housing types by population, overall culture, amenities, as well as local schools and demographics.
Navut also dedicates their time researching hard to find topics such as applying for work or student Visas, entering a new country with the appropriate checklist, and ensuring that people relocating can even communicate in their native language while they adjust to a new country and culture – by matching them with local professionals that share their past experiences.
What is a "Relocation Marketplace"?
Navut's Relocation Marketplace goes beyond typical online real estate listing websites; it offers anyone planning to move to a new city, a new country, or someone that is in the process of relocating for work, a place to connect with others in the same situation.
A few minutes spent with the guided matchmaking process in the Neighborhood Finder will save you hours of searching property listings the traditional way.
"The most important value we offer our community, that none of the other major real estate sites have been able to provide, is the ability to research a neighborhood before even visiting it", continued Mauro. "Instead of being overwhelmed with housing choices that don't provide any contextual data, anyone using our website can quickly locate desirable neighborhoods based on their personal requirements and choices. The end result is a more efficient planning process before spending any time and money on open houses, talking to multiple realtors, and traveling to foreign countries to conduct exploratory research."
Navut also features profiles of carefully chosen real estate agents and rental property managers with specializations in specific neighborhoods, languages, and budgets, so that potential renters and buyers can quickly identify which real estate professional they would like to contact, before even picking up the phone. Since launching the Neighborhood Specialist program, a vast majority of registered users on the Navut website choose their Realtors directly from their accounts, making the process of buying or renting much less stressful; all of the real estate professionals listed with Navut have been qualified and vetted, both personally and professionally.
The founders at Navut are certainly not new to the challenges newcomers can face when moving to another country; each of them has been through the process themselves, and having learned along the way, decided to dedicate their lives to helping others on their journey. Read about their stories here.